One of my goals is to live in a mind-set of boldness. To not be ashamed of my opinions on faith, family, politics, and hot button issues.
I typed out a post on Facebook this morning about politics and promptly erased it. Instead posting this:
I'm wearing a shirt that says "be bold" yet I just erased a post I was about to hit publish on because I'm a wimp when it comes to expressing my opinions, especially about politics. I really need to stop caring so much about what other people will think of me and just be me.
That post got several comments from friends. Some of which said to post my opinions. Others said they understand because they are the same way. While one stuck out to me. I won't publish her name on my blog in case that isn't okay by her, but here is what she said.
Caring about other people's thoughts and feelings doesn't make you a wimp. It makes you wise and thoughtful. I think it's a misconception that if we aren't freely speaking our mind on social media that that means we are silent or have no opinion. It's GOOD to care about what other things about you. It's natural. What matters is that you're not changing your opinions, thoughts or feelings because of it. Something to think about! You show bravery EVERY SINGLE DAY by sharing your heart about your kids and the challenges and heartache that comes with Lyme disease. You share your creativity, girl, THAT is bravery. You are no wimp. Not in my eyes.
That comment made me realize something. Maybe I do live my life in boldness. Maybe she's right. Maybe the way I share my art, my family, and our fight with Lyme disease is boldness. And maybe sometimes being wise and caring about other's feelings is living in boldness.
I'm still working this boldness thing out.
I may never be as bold as I want.
Or maybe, I'm as bold as God needs me to be.
Maybe I don't need to be a lion, roaring my opinions – but rather a lamb, gentle and soft spoken. Maybe my kindness matters more than my boldness.
Either way, I hope to make more peace with myself this year.
I long for this year to be the year of self-acceptance and growth. I want to embrace more of me and worry less about what other's think of me.
I want to be bold. Bold in self-acceptance.
The shirt I'm wearing is from Cents of Style. They were kind enough to send me the shirt to share with you. I got to choose the saying I wanted. Be Bold. So many to choose from , but be bold sums up my desire for this year. I love the material. It's flattering, which isn't easy to find in a plus size shirt! Below are my other favorites they have.
I really love this one. So much I think I'll purchase it on my own. I long to be bold and be the good! To be bold in my goodness.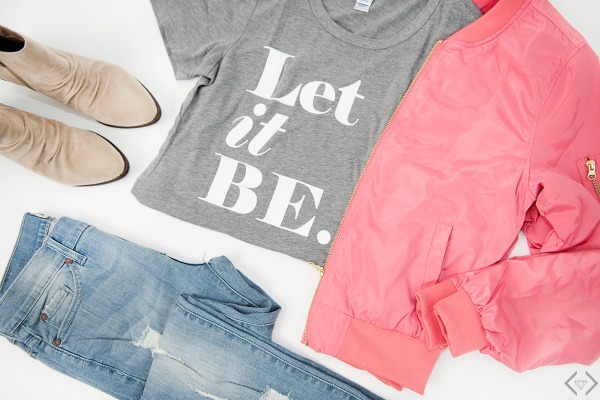 Another one that would be great for me… let it be… let it go… let God take it and use it.
And of course, a great reminder to those of us who think we can't do hard things. We can. We can do the hard things like forgive, forget, move on, take steps toward being a better you.
You can find the full collection by clicking here.
A little disclaimer.
This post includes affiliate links & I did receive the shirt in exchange for this post. All my opinions are my own.